Spelen in een Beatles tribute band: ontleden en proberen (we zoeken nog een zanger en drummer)
Het begon bij mij zo'n dertig jaar geleden. Als brugklasser logeerde ik af en toe, vooral als het hard waaide, bij m'n tante om minder ver te hoeven fietsen. 's Avonds speelden we dan 'mens-erger-je-niet' en mijn tante draaide LP's terwijl we kopjes thee dronken. Op een van die avonden hoorde ik voor het eerst The Beatles. Het 'rode album' om precies te zijn. En om nog preciezer te zijn: 'yesterday'. Ik vroeg m'n tante wat voor muziek het was en ze vroeg me, enigszins verbaasd, of ik niet wist dat dat de Beatles waren. Diezelfde avond nog namen we het hele rode album op en het cassettebandje ging in m'n schooltas mee naar huis. In een paar weken tijd werd dat bandje grijs gedraaid. Onder de afwas, tijdens het 'lichtere huiswerk' en niet heel veel later ook in m'n walkman op de lange, lange fietstochten naar huis van school.
Na dat eerste rode album volgden uiteraard de andere albums. Mijn ouders bleken zelf het 'blauwe album' in de kast te hebben staan, maar al snel gingen we op jacht naar de echte albums. Let it be, Abbey Road, Rubber Soul, we tikten ze meestal voor een tientje op de kop. Maar het bleef niet bij luisteren alleen. In ons muzikale gezin -mijn vader was leraar en gaf jarenlang extra lessen op een muziekschool- waren allerlei instrumenten te vinden: een piano, een Hohner Pianet, een klarinet, accordeon -speelde ik zelf- en allerlei percussie-instrumenten. Maar ergens achter in een kledingkast bleek ook nog een Spaanse gitaar te liggen. Of ik er op mocht spelen, vroeg ik aan m'n vader. 'Uiteraard', was zijn antwoord. En dat was het begin. (tekst loopt door onder afbeelding)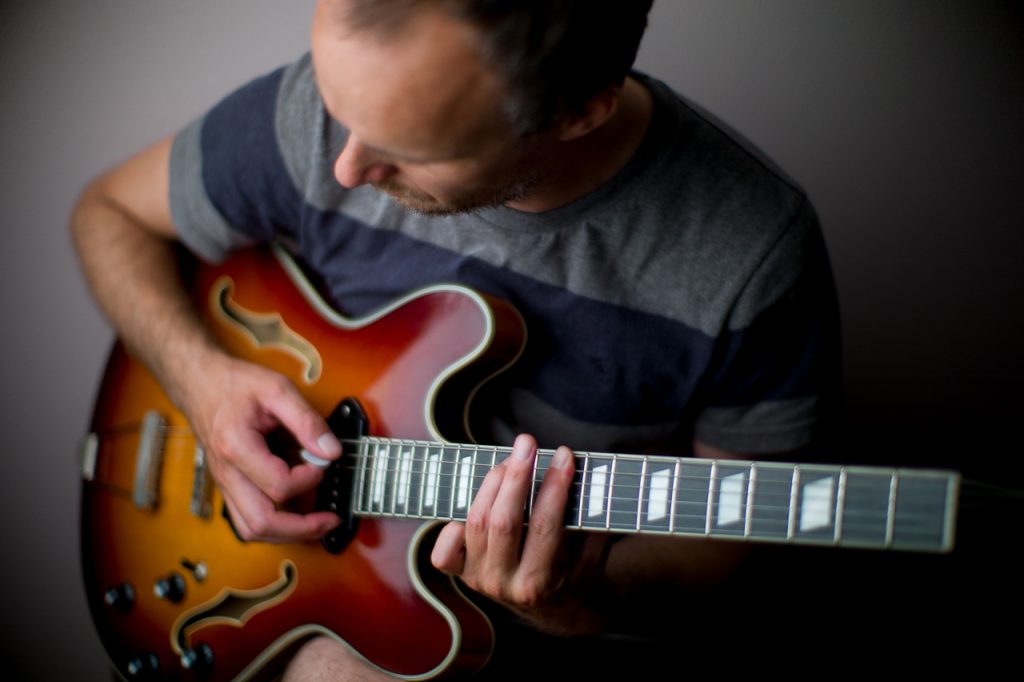 Zes jaar geleden vierden mijn vrouw en ik in een bloedheet Buenos Aires dat we net getrouwd waren. We zaten in een cafeetje en waren loom van de hitte. Al wachtend op ons avondeten kreeg mijn vrouw ineens het idee om een bucketlist op te krabbelen. Ergens in de top-10 wensen op mijn lijstje stond 'spelen in een Beatles Cover band'. En nu, zes jaar later, ben ik daar eindelijk mee begonnen.
De afgelopen dertig jaar speelde ik af en aan ontzettend veel gitaar, of liet ik mijn instrumenten compleet verstoffen. Allerlei bandjes passeerden: soms leuk, vaker wat kortstondig. Een paar maanden geleden vond ik op Muzikantenbank een oproep: John en Paul zoeken George. Ik belde Paul, die eigenlijk Bas bleek te heten, wat op zich wel weer makkelijk te onthouden is. Of ik morgenavond even wilde langskomen, want de andere George had afgezegd. Een setlist met tien nummers moest ik in twee uurtjes in m'n hoofd zien te krijgen. Maar het ging goed. Twee weken na de auditie werd ik gebeld met de vraag of ik George wilde worden. (Tekst loopt door onder afbeelding)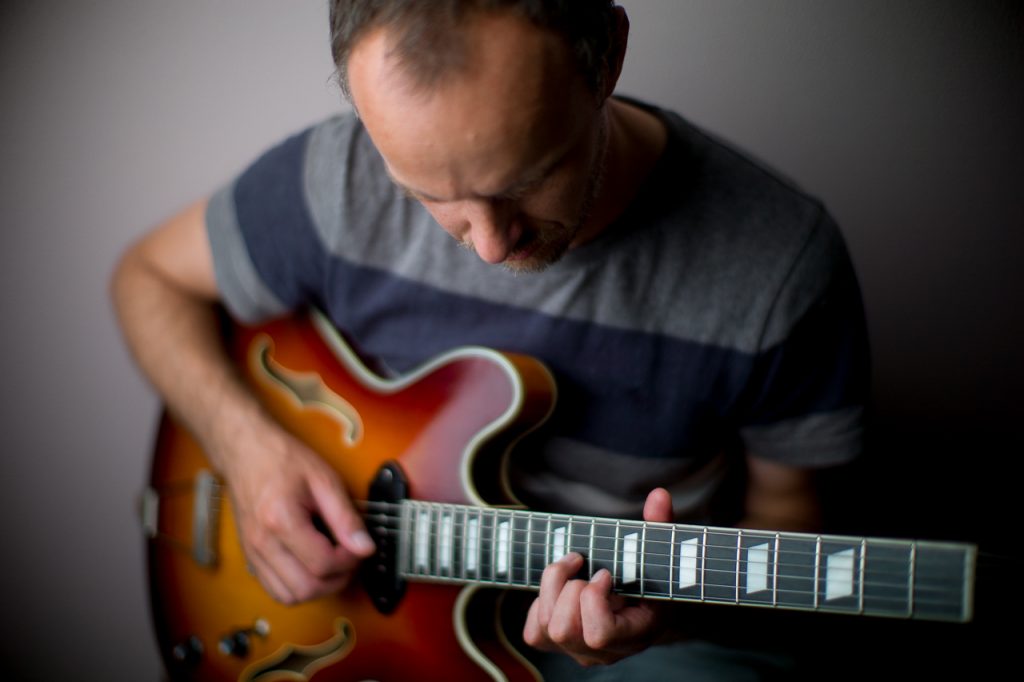 Ook al luister ik inmiddels bijna dertig jaar naar The Beatles, toch ben ik de afgelopen tijd pas écht gaan horen wat ze nu eigenlijk precies doen. Op Spotify ben ik eindeloos fragmenten aan het beluisteren, met een koptelefoon, in diepe concentratie. Want wat doet George nou precies in 'All my loving'? De snelle tripletten van John zijn goed te horen, maar de partij van George is minder duidelijk. En dan de solo: hoe doet hij dat eigenlijk? In de beginjaren speelde George in de stijl van Chet Atkins en dat betekende dat hij weliswaar met een plectrum speelde, maar zo nodig met zijn andere vingers een extra snaar 'plukte'. Klinkt simpel, maar probeer het maar eens. En het snelle aflopende 'tokkeltje' in 'Help': heel lastig met een plectrum. Even zoeken op internet leerde dat George er zelf ook moeite mee had.
Al luisterend begin ik George z'n partijen te ontleden, voorzichtig te kopiëren en langzaam begin ik beter te begrijpen wat voor gitarist George nu eigenlijk was. Een minimalist met een heel sterk gevoel voor harmonie en iemand met een heel herkenbare eigen stijl. In de beginjaren was hij vooral instrumentalist en vocalist, maar halverwege de jaren zestig en vooral aan het eind van de Beatles periode, bewees hij ook een uitmuntend componist te zijn.
We zijn er nog lang niet. Sterker nog, we zoeken een lead zanger en een nieuwe drummer (in september hebben we weer audities. Reageer dus vooral!), maar we komen er wel. The Analogues zullen we niet worden, maar dat hoeft ook niet. Het luisteren, het ontleden, het uitproberen in de oefenruimte: het geeft nu al zo ongelofelijk veel plezier.
24 September en 1 oktober houden we audities voor een drummer en een zanger. Als zanger hoef je geen instrument te bespelen, maar het mag uiteraard wel. We spelen in Zoetermeer op onze vaste dinsdagavond. Meer weten? Stuur me een mailtje of bel me op 06-155 64 935
---
---
---