I'm a big fan of the various thumbs-up thumb rests. I've been using these things on my M9 and M9-P for a couple of years now and they truly add stability and ergonomics to these cameras. Being a documentary wedding shooter, I sometimes have to use very slow shutter speeds. With the M9, shooting on 1/8th of a second, on 1.2 at 2500 ISO was as far as I could go. You can imagine how thrilled I was with the extra two stops of the M240. I could use two more stops of course, but this is getting us somewhere.
With the M240, I just used the same  Thumbs-up that I used on the M9. It worked perfectly, but having to slide the thing out when I wanted to use the accessory port, started to annoy me after a while. At first, I wasn't interested in live view at all, until I discovered that I could use a lot of interesting lenses on my M with a simple adapter. My old manual focus Minolta lens kit got a second life. I even bought an electronic viewfinder and after getting used to it, I took it to some weddings as well. For fast action, the EVF is unsuitable, due to a lag and a very annoying long blackout. But when I'm shooting a reception and I have some time left to do some 'free shooting', I do like to use my 58/1.2 and get some creamy bokeh shots.
After almost losing my Thumbs-up, because I kept changing between the EVF and the thumbs-up, I ordered the Thumbie to give it a try. I must say I wasn't really keen on glueing something to my camera, but after I read that removing the Thumbie is even easier than attaching it, I just went for it. With even less than 30 euros, the Thumbie is quite cheap. I'd be happy to pay almost double for it, but a bargain is always welcome. It was shipped fast and was delivered in a nice little box with clear instructions and two extra tape pads. Attaching the Thumbie took just half an hour and during this time, I managed to edit at least ten pictures. After attaching the Thumbie I needed to press it a few times to make it stick to the body, as instructed. After that, it felt quite solid, with just a little flex, due to the foam. Although a bit cautious first, I started to hold my camera like I did with the Thumbs-up quite quickly. The Thumbie gives a little less support compared to my Thumbs-up, but more than enough to improve the ergonomics dramatically.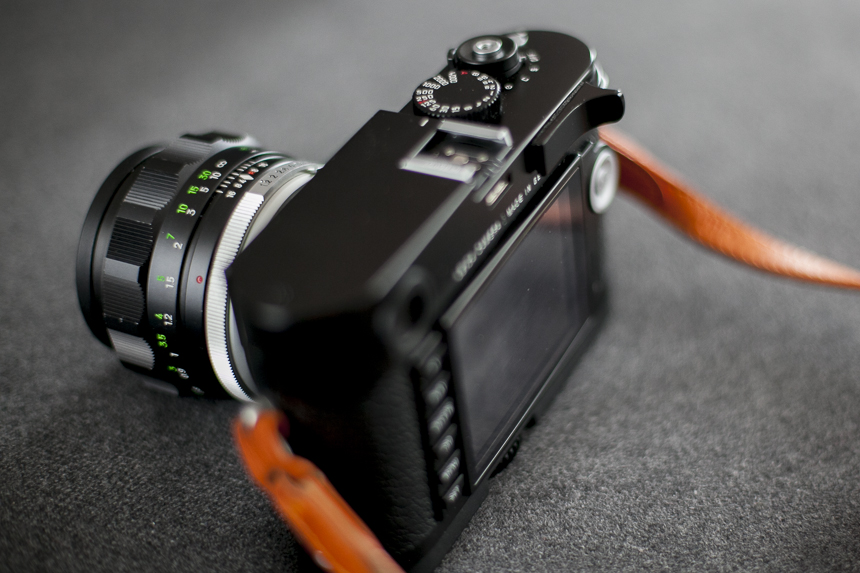 After a few weddings and other assignments I can say I'm very, very pleased with the Thumbie. It leaves my accessory port open, improves the ergonomics and it looks nice. Anyone looking for an improvement of the M240 ergonomics should definitely consider this little gem. Users of the M9 and M8 that are in the market for improvement of the ergonomics of their camera might also consider the Thumbie. However, if you never use your hotshoe and you don't mind spending a little extra money, I'd recommend the Thubs-Up EP-1S. It has just a tiny bit more grip for your thumb and you can easily remove it if you don't want it on your camera.