Hello Joeri,

I just finished reading your reviews on the Billingham Hadley small, L2 and 1.4. A breath of fresh air in the world of gear reviews. Very nice. I would really appreciate your thoughts on the best bag for my gear given your field experience: I shoot with 2 Leica M's with lens mounted and carry 1 spare lens in a small pouch. 

I shoot with: 75mm summicron APO, 50mm APO and 35mm Summilux. I usually have the 75 and 50 mounted on the bodies and swap in the 35mm. 

Then just a couple of filters, extra battery, SD cards.   Cell phone… and that's it.

I was giving serious thought to the Hadley small (it looks a bit sexier :), but unsure if it can take the 2 bodies and extra lens. Anyway, I would love your opinion on the matter.
This was my reply:
I've done a quick try-out with my own gear. I can fit two Ms with a 50 Cron (same size as the APO) and the 75/2.5 without the hood (should be the same more or less) and a 35 cron on the side. As you can see, it fits (sort of), but the L2 will make it easier to fit this gear because of the boxed design.

Furthermore, you can fit more stuff in the front pocket, the L2 won't tip over (the Hadley will), the only thing I prefer about the Hadley is the strap design. Both are excellent bags, the L2 is just even better in my opinion.
And I attached this crappy iPhone shot. The thing is: the L2 is a much more versatile bag than the Hadley Small. The only downside is its strap mechanism and its higher price.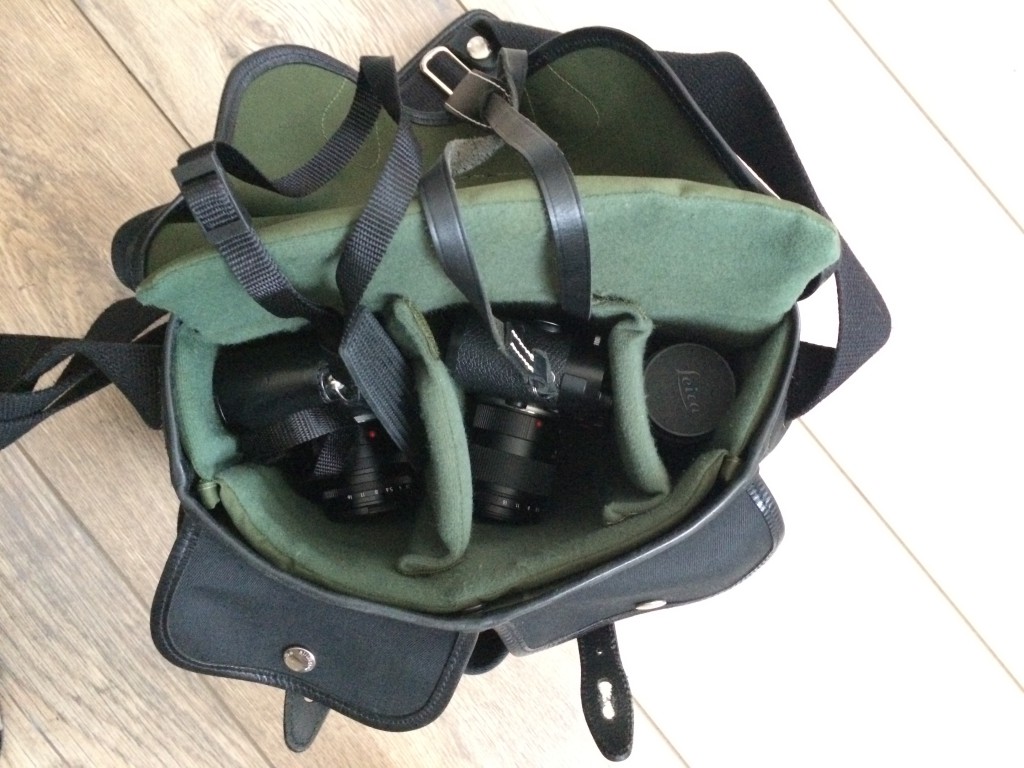 Do you have a question for me? Just send me an email and I'll try to get a response online when I can.